City of Bath, England, June 2004
Published Thursday, February 03, 2005 by Marcus |
E-mail this post


---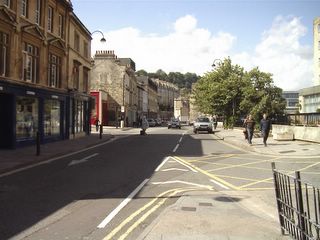 Who needs London when you've got a city as gorgeous as this much closer to you?!
Countryside near Bath:
I think this was the last time I visited Bath. I parked at the Park & Ride car park just outside of Bath, and then instead of riding on the bus into the city, I walked along the Cotswold Way which leads into Bath via some lovely countryside. The idea originally was then to catch the bus back out to the car park, but instead, I just carried on walking and walked round in a loop, through the city, up through the houses, and back up onto the hill where the carpark was.
It was a lovely day.